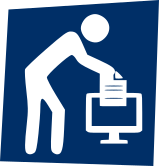 Data is everything, yet incomplete data can be crippling.  We can provide a range of data capture services.  From mobile teams to off-shore clean-up, we have a solution that fits.
GIS data capture
Condition assessments and defect inspections for asset infrastructure

Sporting facilities
Reserves and open spaces
Stormwater drainage networks
Signage and street furniture
Public lighting
Footpath and shared trail networks
Road and traffic assets
Parking and public transport.
We provide high quality, cost-effective spatial data capture services to clients Australia wide.