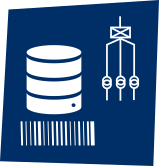 We specialise in Location-Based Asset registries.  We also collaborate with some of the best Asset Management systems to help you analyse, and clean up your data.
No – we do not sell or support a specific asset management system.  We do, however, collaborate with a few, and we assist clients to get the best out of their data and their asset management system.
Most asset datasets relate to real world, fixed objects.  Ignoring their location is like removing the "date" attribute from banking transactions.  The geospatial location provides real context of work, assets and relevant land-based issues. The ability to visualise the spatial information can improve understanding, reliability, longevity and efficient work execution.
Whereabouts injects the location into tabular asset management systems.  It simply makes sense, doesn't it?  Ask us…